Home
»
Concrete Lifting and Leveling
PolyLevel® Concrete Leveling & Lifting in NJ and Staten Island
Quickly & Effectively Stabilize Sinking, Settling Concrete
If your sidewalk, driveway, walkway, patio has sunken or uneven concrete we can help fix it.
Telltale Signs of Sunken Concrete
Sinking concrete steps or sidewalks
Cracked, bumpy and uneven driveways or patios
Cracking and sinking sections of slabs
Washout of soils under concrete slabs
Repeated cracking of concrete slabs
See how and why PolyLevel® works in this video.
Shifting or sinking outdoor concrete is common in New Jersey & Pennsylvania and is usually the result of a weak or shifting soil base. If you live in Freehold, Edison, Jersey City or nearby call us today to get your concrete problem fixed.
Sunken driveways, sidewalks, and concrete floors not only look bad but they present tripping hazards. Sinking concrete is especially a problem if you are:
Concerned about the liability of visitors tripping on your property
Preparing your home for sale
Or simply want to enjoy your home with your family and friends
Leveling concrete can be simple and affordable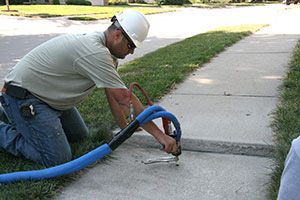 PolyLevel® is an efficient method for quickly and permanently lifting sidewalks. This simple injection foam stabilizes your concrete for years.
You don't need to worry. Quality 1st Basement Systems has fixed sunken concrete dozens of times and can do the same for you. We fix sunken concrete in driveways, patios, sidewalks, garages and anywhere else you can think of.
For years contractors had to use a technique called mudjacking (also known as concrete lifting, slab jacking, and grout pumping) to level settled concrete.
Mudjacking required you to drill large holes in the concrete slab and then pump a pressured concrete slurry underneath the slab. Unfortunately, this method does not work well for weak soils as the additional concrete just adds to the burden on the soil.
Instead of antiquated mudjacking Quality 1st Basement Systems uses PolyLevel® to lift and level sunken concrete slabs. PolyLevel® is a polyurethane foam that is injected through much smaller holes. The foam expands to fill all gaps beneath the concrete and then lifts the slab back to a level position. PolyLevel® is much lighter than mud slurry and cures much quicker as well.
See for yourself how PolyLevel® works, and check out our before and after photo gallery below of PolyLevel®.
We offer concrete leveling in Staten Island and all of NJ including Paterson, Woodbridge, Brick, Mount Freedom, Lakewood, Short Hills, Toms River. Get a free evaluation and estimate.