PolyLevel® Concrete Leveling & Lifting Services
in New Jersey and Staten Island
Quickly & Effectively Stabilize Your Sinking, Settling Concrete with Our PolyLevel® Polymer Injection in New Jersey & Staten Island
If your sidewalk, driveway, walkway, patio, etc. sunken or uneven concrete we can fix the problem. sunken concrete looks unappealing and is a tripping hazard but it can easily be fixed.
Shifting or sinking outdoor concrete is common in New Jersey and is usually the result of a weak or shifting soil base. If you live in Clifton, NYC, Toms River, Edison, Union City or nearby call us today to get your concrete problem fixed.
See for yourself why PolyLevel® works
Telltale Signs of Sunken Concrete
Sinking concrete steps or sidewalks
Cracked, bumpy and uneven driveways or patios
Cracking and sinking sections of slabs
Washout of soils under concrete slabs
Repeated cracking of concrete slabs
Which sidewalk would you prefer to walk on?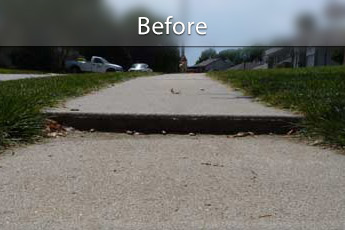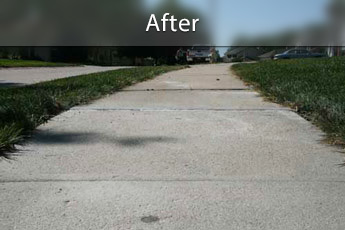 Sunken driveways, sidewalks and concrete floors not only look bad but they present tripping hazards. Sinking concrete is especially a problem if you are:
Concerned about the liability of visitors tripping on your property
Preparing your home for sale
Or simply want to enjoy your home with your family and friends
Leveling concrete can be simple and affordable - Find out how!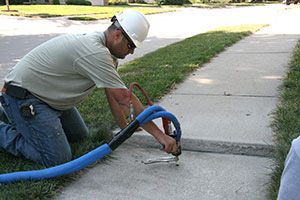 PolyLevel® is an efficient method for quickly and permanently lifting sidewalks. This simple injection foam stabilizes your concrete for years.
You don't need to worry. Quality 1st Basement Systems has fixed sunken concrete dozens of times and can do the same for you. We fix sunken concrete in driveways, patios, sidewalks, garages and anywhere else you can think of.
For years contractors had to use a technique called mudjacking (also known as concrete lifting, slab jacking, and grout pumping) to level settled concrete.
Mudjacking required you to drill large holes in the concrete slab and then pump a pressured concrete slurry underneath the slab. Unfortunately this method does not work well for weak soils as the additional concrete just adds to the burden on the soil.
Instead of antiquated mudjacking Quality 1st Basement Systems uses PolyLevel® to lift and level sunken concrete slabs. PolyLevel® is a polyurethane foam that is injected through much smaller holes. The foam expands to fill all gaps beneath the concrete and then lifts the slab back to a level position. PolyLevel® is much lighter than mudslurry and cures much quicker as well.
See for yourself how PolyLevel® works, and check out our before and after photo gallery below of PolyLevel®.
We offer concrete leveling in Staten Island and all of NJ including: Clifton, Flushing, Brick, Plainfield, East Orange. Get a free evaluation and estimate.
Concrete Leveling and Lifting Jobs We Have Completed
Before

After

This Elmer homeowner had sinking concrete slabs on his patio and outside the entryway to his basement doors. He called Quality 1st to discuss his options on whether to replace the slabs or not. The Design Specialist recommended the PolyLEVEL System; high-destiny polymers that raise the slabs back to be level.

Before

After

Clayton, NJ homeowner contacted Quality 1st Basement Systems for an estimate on lifting and leveling the sidewalk at the end of the driveway. System Design Specialist, Maurice Robinson, recommended PolyLevel, for it would raise the concrete slab back to level and remove the tripping hazard at the end of the driveway. The crew was able to permanently lift and stabilize the concrete by injecting PolyLevel underneath the slab. After the injection, PolyLevel begins to expand and harden raising the slab back to its original state.

Before

After

Quality 1st Basement Systems fixed the concrete porch in Vineland, New Jersey by injecting PolyLevel underneath the slab. PolyLevel is strong and lightweight, it lifted up the concrete easily and fast. PolyLevel is a cheaper and more effective solution than either mudjacking or replacing the concrete.

Before

After

Quality 1st raised sinking slabs in a drive way of this Cape May, NJ home. The crew drilled small holes into each sinking slab, then injected PolyLevel underneath which expands and hardens raising the slabs back to the desired level. PolyLevel is a fast installation and raises slabs without having to remove and replace the concrete.

Before

After

This Gloucester City homeowner contacted Quality 1st Basement when the patio around the pool area and walkway that lead to the back entrance of the home was sinking and settling. System Design Specialist, Maurice Robinson , measured up to 2 inches in settlement and recommended PolyLevel. PolyLevel is a foam solution that is injected under each slab, where it expands and hardens raising it back to its original state. The homeowner was amazed at the outcome when the job was completed and even referred us to their neighbors.

Before

After

A homeowner in Glouchester was suffering with slab settlement around her pool, which made the patio uneven and dangerous for residents. She called Quality 1st Basement Systems for a solution. The team injected the problem areas with PolyLevel, which is made up of high-density polymers. PolyLevel raises sinking concrete back to its original position quickly, efficiently, and with minimal surface disruption. Now this homeowner's pool patio is safe and looks as good as new!

Before

After

Quality 1st was able to lift this concrete slab back to level with PolyLevel System, a polyurethane foam, that expands and fills all gaps and void underneath the slab causing it to separate or settle.

Before

After

This Monroe Township driveway had settlement issues where the driveway and the garage met. The homeowner didn't like the way it looked nor the bump his car had to drive over each day he drove in and out of his garage. He called Quality 1st for a free estimate! A Design Specialist recommended the PolyLevel System which would easily permanently lift the driveway back to its desired level, removing the small bump. The homeowner was very pleased to see how quick and easy it was, plus how well the crew cleaned up!

Before

After

The homeowner in Williamstown, NJ noticed their one driveway slab had settled a little in their driveway. At first they thought nothing of it but over time their foot would start to catch it on the way to the car. Realizing that one of them could get hurt they contacted Quality 1st to take a look to see what could be done. System Design Specialist Maurice Robinson recommended PolyLevel. A small whole was drilled into the slab which pumped a small amount of PolyLevel foam solution underneath. The foam then expands and hardens raising the slab back to its original level.

Before

After

This patio in Mount Laurel, NJ was sinking. The slab was a huge trip hazard right in front of the house. Quality 1st Basement Systems injected PolyLevel underneath the slab, lifting it back up. Now it is lifted and much safer.

Before

After

Quality 1st Basement Systems removed the trip hazards from this sinking front porch in Riverside, NJ. The homeowners noticed that the concrete slab had sunk a few inches over the last couple of years. The PolyLEVEL injection raises the concrete and creates a waterproof layer under the concrete. This waterproof layer prevents future soil wash out, preventing future sinking of the concrete.

Before

After

Quality 1st pumped PolyLevel into the sinking concrete slabs at this Derlan, NJ home. As you can see in these pictures above, the PolyLevel system was able to level the entire slab without disturbing any of the other slabs. Now this driveway is completely leveled and safe for anyone walking around.
Looking for a price? Get a no cost, no obligation free estimate.