Professional Basement Waterproofing in NJ and Staten Island
If your basement is wet, cracked, or smells musty – we can help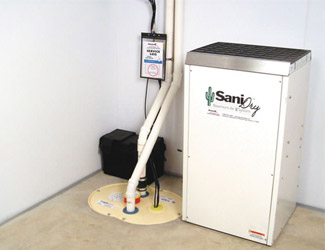 Keep your basement dry all the time. A TripleSafe® Sump Pump System (shown here), combined with a SaniDry® dehumidifier, represents the ultimate in basement waterproofing and humidity control.
No homeowner wants to deal with a damp or wet basement or even the potential risk of a wet basement every time it rains! At Quality 1st Basement Systems, we offer effective basement waterproofing solutions. Our expert waterproofers are trained to identify the underlying cause of your wet basement and the musty smells and mold problems that often result. They can design a high-quality waterproofing system that will eliminate your problems.
If you have water in your basement or want to learn more about our basement waterproofing solutions, call us today at 1-888-680-3830 or click below. We offer free estimates in Brooklyn, Toms River, Bronx, Edison, Union City, Clifton, Staten Island, and many surrounding areas in NJ and NYC.
What Our Customers Say!
By Christopher G.
Philadelphia, PA

"I want to vote for Victor Leon in your competition. As the lead person he..."

By Monica G.
Cherry Hill, NJ

"Wilver Cardoza and his crew excellent workers. Would highly recommend."

By James J.
Medford Lakes, NJ

"I am very happy with the work that you have done. I will recommend you to..."

By Paula T.
Bordentown, NJ

"Jesus and his crew were just amazing. They were so efficient. Jesus..."

By Michael M.
Bordentown, NJ

"Quality first was very friendly, efficient and delivered exactly what was..."

By Sylvia J.
Pemberton, NJ

"This is an excellent company to do business with. The sales..."

By Lloyd M.
Titusville, NJ

"as a insurance professional and a prior home remodeler job first class"

By Jane A.
Lambertville, NJ

"My technician, Randy Halal, was knowledgeable and thorough. Thank you,..."

"since having our basement waterproofed after hurricane irene, our basement..."

"This was a great experience from the beginning to the end everything was..."

By Lois M.
Bloomsbury, NJ

"Very knowledgeable and friendly."

By Gary B.
Pennington, NJ

"This is the second time I've used this company this year. I had my..."

By MICHAEL P.
PNENNINGTON, NJ

"Damien Sorrentino provided excellent service. On time arrival, detailed..."

By Leila J.
Browns Mills, NJ

"everyone did a great job at what they were assigned to do. The information..."

By Anthony E.
Browns Mills, NJ

"Wilver and his team did a very good job. He was very professional."

By Robert
Browns Mills, NJ

"Very satisfied with all the service I received from your company, from my..."

By Richard S.
Wrightstown, NJ

"Yours is one of the very best companies that we have had do work in our..."

"Ken, the Sales person was GREAT, as was Octavio the Mechaning"

"Victor really did go out of his way to satisfy my concerns, promptly..."

By Alan T.
West Windsor, NJ

"Yours is a first-rate operation--impressively experienced and..."

By Phillip F.
Flemington, NJ

"Nice to have a company exceed my expectations. Not only was the work..."

By Jean E.
Flemington, NJ

"Melvin Cardoza was the forman and he was very professional.He walked me..."

"How do I check the system to see if everything is working without taking..."

By Mohan
West Windsor, NJ

"During the annual maintenance, Vinny did a very thorough job of cleaning..."

"The sales person and the foreman were both great."

By David N.
Princeton, NJ

"Crew left a small area temporarily unfinished for the purpose of letting..."

"Very happy with overall process. Can't to have you guys back to finish the..."

"I was amazed at what I did not know. This is my first home and I wanted..."

"always very busy and tight schedule - - even if I am "retired". Not your..."

By Robin G.
CREAM RIDGE, NJ

"We were very pleased with the first project you did so we only thought of..."
---
The causes of a wet basement
Did you know you can have water issues in your basement without heavy rains or obvious standing water? It's easy enough to see water coming through a crack in your floor or basement wall, but what's the real cause of your basement water problem?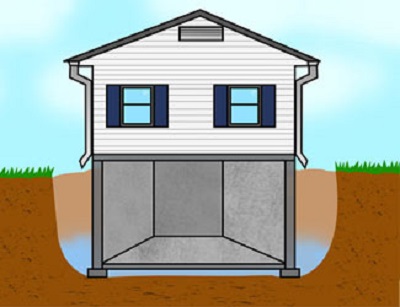 The Clay Bowl Effect
Excavated soil that's replaced around a completed foundation isn't as dense and tightly packed as undisturbed soil farther away. As a result, water collects in the soil immediately surrounding the house, putting pressure on foundation walls and causing cracks.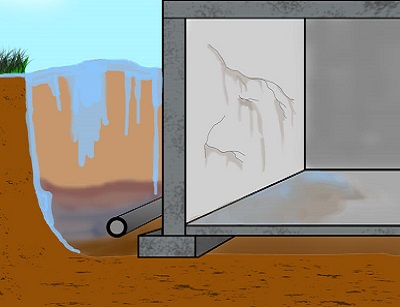 Hydrostatic Pressure
As soil around your foundation becomes soaked with moisture, it expands and puts pressure on your foundation. The water will then work its way through any opening available, including cracks and openings around pipes or windows.
---
Before and After
Before

After

Cherry Hill homeowner had multiple cracks in his basement foundation and basement flooding. Quality 1st completed the foundation repair and fixed the cracks in the wall, waterproofed the basement using the WaterGuard draining system, then refinished the basement using ThermalDry Wall System. ThermalDry not only increases energy savings in the home as its foil face reflects heat back into the basement, but is made of inorganic materials which means it will not grow mold and will keep water out!

Before

After

The owner of this basement in Maple Shade, NJ needed a new sump pump. Quality 1st Basement Systems installed a TripleSafe sump pump. The three pumps and battery back up will keep this basement dry.

Before

After

The homeowner of this Riverton home experienced water in the basement after heavy rains. Quality 1st Basement Systems transformed this basement by installing several waterproofing products. BrightWall basement paneling was installed in order to give the basement a fresh new facelift. It not only looks great, but it's durable too. BrightWall is made out of flexible plastic and directs water seepage to a sump pump and away from the basement floor. Now this basement never needs a paint job and will stay dry during heavy rains.
How we solve your basement waterproofing problems
A home with a wet basement can be much more difficult to sell. In fact, a wet basement is one of the most serious "red flags" that deters buyers. The good news: we offer waterproofing products and services to help solve your basement problems fast. Our solutions include:
Perimeter drainage systems
Doorway drainage systems
Sump pumps
Waterproof wall and floor products
Wall and floor crack repairs
Replacement windows
Water heater flood protection
High strength washer hoses
Our system comes with a lifetime written warranty that's transferable to the next owner, so not only does our system restore value to your house, but it also gives homeowners and buyers confidence that their home is protected.
Six great reasons to choose us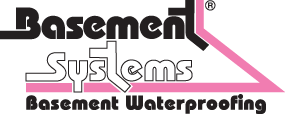 Quality products: Basement Systems® dealers us a complete line of patented, award-winning products that have been keeping basements throughout North America dry for over 25 years.
Fast installations: Our system installs quickly, with most projects completed in just one to two days.
Experienced crews: A crew of experienced contractors will arrive to install your system quickly and professionally. Each one is a waterproofing specialist who dries basements every day.
Cost-effective system: Our waterproofing system can be customized to fit your budget, and it costs about half as much as an exterior waterproofing system. Our system works for both finished and unfinished basements.
Locally-owned and operated company: Quality 1st Basement Systems is the locally owned and operated member of the Basement Systems network. We have products and training that simply can't be beat!
Free waterproofing quotes: We offer free waterproofing quotes to homeowners in our service area. Our quotes come in writing, and there's no obligation!
Get expert basement waterproofing services today
Our crews of waterproofers are experienced, well-trained professionals who work in basements and crawl spaces every day. The experts at Quality 1st Basement Systems have seen it all, and we know just what it takes to keep your basement dry all the time!
If your basement leaks or floods, or you have mold, mildew or a musty smell, call us today to request a free basement waterproofing estimate in Brick, North Bergen, Plainfield, East Orange, Clifton or nearby. We will send one of our certified basement waterproofing specialists to visit your home and conduct a thorough inspection of your home's basement foundation.