Expert Basement Finishing in NJ & Staten Island
Transform your basement into a finished space that fits your lifestyle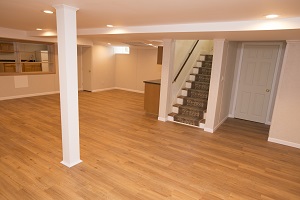 Our expert contractors create long-lasting, beautifully finished basements that are waterproof and durable.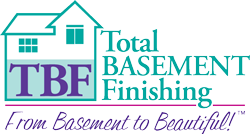 We transform your unfinished basement into a comfortable, protected, attractive living space using the award-winning Total Basement Finishing™ (TBF) basement remodeling system, installed by Quality 1st Basement Systems.
The Total Basement Finishing includes walls, flooring, and ceilings that are designed for two things: to look great and to protect your investment. Most contractors use organic materials like wood and drywall. These materials grow mold and rot when they get wet. This means that the first burst pipe over the basement destroys it.
Our basement finishing products are waterproof. That same burst pipe could get the basement wet, you would dry it off and there would be no damage to the floors or walls!
The walls are insulated, the floors durable, the ceilings no-sag. We are here to help create a functional, beautiful living space in your basement. We finish basements in Clifton, NYC, Toms River, Edison, Union City, Staten Island and nearby. Call 1-888-680-3830 to schedule a free design consultation and estimate.
Why more customers choose our basement finishing products
Highest quality
Mold & water resistant
Best value
Beautiful, high-end appearance
Energy saving
Easy to clean
Click below on each of the different basement remodeling systems to learn more

Love your basement with our trusted products & respected installation
The Total Basement Finishing™ System is a comprehensive basement remodeling system. We carry a range of options for your basement renovation project. Along with the wall panels and flooring, we also offer additional finishing options like basement windows, lighting, electrical work, and dehumidifiers.
The basement remodeling products we use are 100% inorganic. This means they are waterproof and mold resistant, exactly what is required in the basement; no fear of a leaking water heater destroying your basement. Your basement will look brand new for years to come.
The flooring we use is incredibly durable and can be replaced in small sections (rather than as a whole) when you do manage to wear it out. The walls are washable, insulated and can hold up your flatscreen without studs. The ceilings are no-sag, mold resistant and have crown molding.
We can do anything with your basement that you want...an extra bedroom, a home theater, a gym? Whatever your basement design idea Quality 1st Basement Systems can help you find the best solution for your home. Don't wait to get started. Give us a call today 1-888-680-3830 to schedule a free design consultation with one of our basement finishing experts. We serve all of New Jersey as well as Staten Island.
Four great reasons to remodel your basement
No moisture, no mold, no problems. Quality 1st Basement Systems has years of experience working in both basement waterproofing and basement finishing. We know exactly how to protect a basement from water damage while finishing it at the same time. You can expect a beautifully finished and protected basement that will last for the lifetime of your home.
Inexpensive extra space. It is much less expensive to finish your basement than to build an addition to your home. Remodeling your basement provides an entire floor of quiet, private living space for less than half the cost per square foot of an addition (according to the 2013 Remodeling Magazine Cost vs. Value Report).
Excellent return on investment. If you want to increase the value of your home the big three you should look into is remodeling your bathroom, your kitchen and of course the basement.
Energy savings. Your big unfinished basement is not only ugly but it is costing you money each month in energy costs. By finishing your basement you can fix the air leaks and lack of insulation along the way to save yourself some cash in the long run.
See what your basement can be with a free design consultation
If you want to finish your basement but are not sure what the planning and pricing will include we can help you out. One of our basement renovation experts will visit your home for a free design consultation and cost estimate with no obligation to you.
Your free quote includes all of the following:
A professional on-site basement inspection.
A design consultation with Total Basement Vision - our interactive software program.
Your basement finishing proposal, in writing and e-mailed to you or printed right away.
Our full-color 88-page book: "Basement Finishing Science."
Our mission at Quality 1st Basement Systems is to build you a protected, finished basement at a fair price with exceptional customer service. We proudly serve Clifton, Flushing, Brick, Plainfield, East Orange, Staten Island and many surrounding areas.
Looking for a price? Get a no cost, no obligation free estimate.