Crawl Space Repair & Encapsulation NJ & Staten Island
Vapor Barriers, Support Jacks, & Crawl Space Encapsulation for A Dry, Healthier Space
Problems in the crawl space like rot, mold, structural issues will affect the rest of your home. The good news is that Quality 1st Basements can permanently prevent these problems.
At Quality 1st Basements, we specialize in crawl space problems of all types. We offer free crawl space repair price quotes in the New Jersey area, including areas like Jersey City, Newark, Staten Island, Toms River, Ridgewood, Trenton, Clifton, Passaic, Union City, Brick, Paterson, Edison, Brick, Woodbridge, Mount Freedom, Short Hills, Lakewood, Staten Island and nearby.
Symptoms of a Crawl Space Problem
Drywall cracks in the interior
Uneven floors
Foul odors in the home
Heightened allergies or asthma symptoms
If you're having a problem with your sagging, wet or even flooded crawl space, you've come to the right place. At Quality 1st Basements, we specialize in crawl space solutions for all crawl space problems. Our patented crawl space repair and sealing solutions offer a permanent fix for any and all issues you may come across.
Whatever your issue, we have the products and experience that you need to find the best solution. Whether it's crawl space odors (musty, mildewy smells), moisture, humidity, mold, or pests, we can help your crawl space.
Crawl space repair is a preventative measure. It prevents future unnecessary repairs, creates a healthier living space and saves you money on your utility bills. After you have encapsulated the crawl space you have dramatically increased your available storage space. We are your trusted crawl space repair contractor in Staten Island and all New Jersey.
Crawl Space Repair: Before and After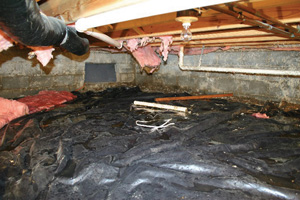 Moisture, mold and falling, failing insulation are problems in this crawl space, which hasn't been properly sealed.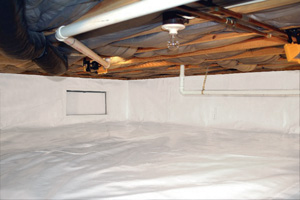 The encapsulation treatment totally separates and protects the crawl space interior from outdoor conditions, keeping the space clean and dry.
Certified Crawl Space Repair Contractors in New Jersey and New York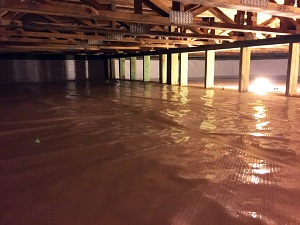 Our CleanSpace® Crawl Space Encapsulation system provides permanent moisture control and protection for any size crawl space.
The products we use to encapsulate your crawl space were developed by the Basement Systems International network of waterproofing contractors.
Basement Systems has been serving homeowners since 1987 and runs a full Research and Development department. This is where they constantly test and build the industry's best crawl space solutions.
Basement Systems has over 30 patented products and provides permanent crawl space repair solutions. The products we install your crawl space come with a written warranty.
Free Crawl Space Repair Inspection
Before work begins we will have one of our crawl space experts visit your home for a free on-site inspection. They will find the root of the problem and provide the solution. You will also receive a free, no-obligation crawl space repair cost estimate. The estimate is completely written out so you know the exact costs of the project.
Before we meet we will even send you a free 88-page instructional book on crawl space repair so you can understand the issue and make the best decision for your home. We serve all of New Jersey and Staten Island. Call us today to get started! 1-888-680-3830