Basement To Beautiful™ Insulated Wall Panels
An Inorganic Solution To Insulating & Finishing Your Basement Walls
What It Does:
Basement To Beautiful™ Basement Wall Panels are designed to keep your basement dry, and your home energy-efficient.
These wall panels are created by using graphite-infused foam insulation, called SilverGlo™. This insulation provides 24% more energy savings than conventional foam products.
Basement To Beautiful™ panels create a warm, protective blanket around your basement that will never rot or support mold growth. They are 2 ½" thick and R-13 insulation.
Technical Features
Forms An Unbroken Sheet Of Insulation On Basement Walls
Provides A Waterproof Vapor Barrier
Compatible With Our Drain Systems
Graphite Particle Infusion Enhances Insular Properties By 24%
Prepares Your Basement Walls For Finishing
Built-in Electrical Outlets & Chases Allow Electrical Installation

Our Basement To Beautiful™ panels are perfect for finishing your basement. They ensure lasting value for your investment! For a free, no-obligation quote to insulate your basement walls, contact us today!
We serve Edison, Staten Island, Jersey City, and many nearby areas in New Jersey.
Long-Lasting, High-Performance Basement Insulation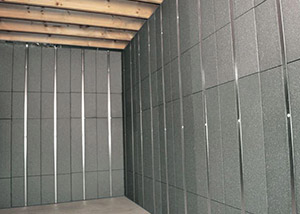 Basement wall insulation will make your home a healthier, more comfortable, and can even save you money! A report by the U.S. Department of Energy has shown that the annual energy savings of insulating your basement walls can be in excess of $350 in some regions.
Basement To Beautiful™ panels have been designed with SilverGlo™ insulation. This insulation is created with an expanded polystyrene foam insulation. SilverGlo™ is created with a unique graphite infusion process that improves its insular ability by an incredible 24% over comparable foam insulation products. When finished with a wall paneling, your basement insulation will meet International Code Requirements, with an R-13 insulation rating.
Our basement wall insulation is created with inorganic materials because mold thrives on wet, organic materials. Our wall insulation will never support the growth of mold, mildew, or rot. We do not use There's no wooden studs, drywall, or fiberglass to grow mold. Instead, the system is designed to attach directly to your basement walls. Metal studs are integrated with the foam so that there is no energy loss between the studs and the walls.
Typical stud designs require the insulation layer to be broken at intervals to allow for the studs to be built, which is a major design flaw. At these points, studs made with thermally conductive materials will transfer heat from your home to the cold concrete walls.
In the case of Basement To Beautiful™ panels, the studs leave 2" of uninterrupted insulation behind them, so they don't compromise the thermal blanket on your basement walls. The studs will never touch these walls, and this heat transfer never occurs!
To save you time and hassle, electrical chases are designed directly into the Basement To Beautiful™ system. This way, there is no need for you to have an electrician to come in to rough in the wiring, then return to complete the job later. It can all be done in one step after the finished panels are installed.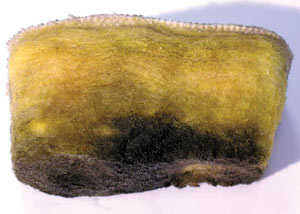 As fiberglass insulation becomes soaked with moisture, it becomes a habitat for mold, mildew, and rot.
What NOT To Do
It is very important to rid your basement of water, humidity, and flooding before finishing your basement. The materials you use to finish your basement should be immune to these factors.
Using fiberglass insulation in your basement is a very, very bad idea. Fiberglass insulation is absorbent, and during flooding conditions, it will soak up water and moisture like a sponge.
Additionally, fiberglass contains dyes and resins that will grow mold over time in wet or humid conditions. Additionally, the dyes in fiberglass have been known to leak when wet, staining wall coverings permanently.
You can protect your basement from these things when you use inorganic closed-cell foam insulation on your basement walls. This will ensure that your insulation will not soak up water, rot, or support fungal growth.
Enjoy A Warmer, More Comfortable Home!
At Quality 1st Basements, we have just what you need to save money and enjoy a beautiful new living space in your home. Our basement waterproofing experts are proud of their fast, clean, and effective installations of this innovative insulation product.
If you would like a free, no-obligation, written basement wall insulation quote, we're here to help you! Contact us by phone or e-mail today to schedule your free appointment!
We proudly serve Jersey City, Edison, Staten Island, and many other parts of New Jersey.
Looking for a price? Get a no cost, no obligation free estimate.