Design Ideas for Your NJ and NYC Basement
Your basement is quiet and private so it can be used for just about anything. The first step in designing your finished basement is to decide how you want to use the space. Once you have an idea, Quality 1st Basement Systems can help you choose the best solutions to make it happen.
Get a free basement design consultation today!
Schedule A FREE Quote!
If you're ready to get started with your finishing project, call us at 1-844-268-0860 or click below! We will provide you with a free design consultation to discuss your wants and needs and come up with the perfect plan for your basement!
Ideas to help you plan your dream basement
There are so many design options to consider when remodeling your New Jersey basement. Quality 1st Basement Systems wants to make it easy for you. We have listed a few popular basement remodeling options that you might want to consider.
---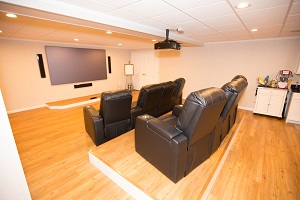 Home Theater/Media Room
If you're a movie buff, isn't it time you had a screening room where your family and friends can relax and enjoy the best that Hollywood has to offer?
Built-in cabinetry on either side of a big flat-screen TV will enable you to hide wiring and store DVDs. Put ceiling and wall sconce lights on separate switches so you can turn the brighter ceiling lights off during the movie. Don't forget to make room for reclining lounge chairs with small side tables for popcorn and beverages.
---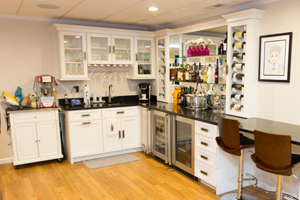 Basement Bar
The basement is a perfect location for a basement bar where family and friends can gather to enjoy a nice cocktail together. Splurge on a neon sign to set the mood, and consider adding a basement bathroom to eliminate trips upstairs. Last but not least: a compact refrigerator and plenty of seating.
---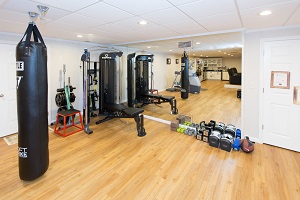 Basement Gym
Your basement's concrete slab floor makes a great base for even the most hardcore weight-training and fitness equipment.
With a small flat-screen TV and DVD player, you can get entertained while you train. Add a basement bathroom or even a small sauna to create your own health spa.
---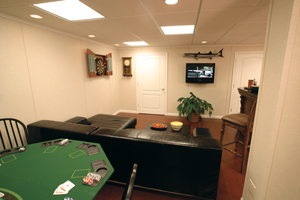 Gameroom/Lounge
Whether you want a space for your teenagers to hang out with friends or a grown-up hangout spot, a basement game room or lounge is the perfect area for comfy couches, a pool table, card table, foosball, and much more. Your basement can even be transformed into the ultimate music room or recording studio.
---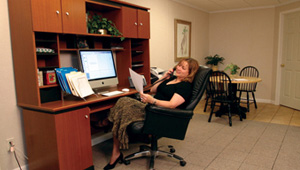 Home Office
You'll be surprised at how productive you can be in a basement office, away from upstairs distractions.
Avoid eye strain by combining glare-free overhead lighting with good task lighting. ThermalDry® floor tiles provide an easy-to-clean floor surface that office chairs love to roll on.
---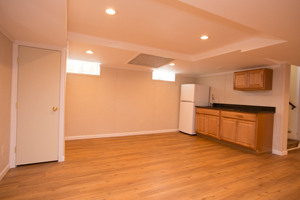 In-Law Apartment/Guest Room
If you need another bedroom, don't spend big bucks on an addition. Instead, take advantage of the space you've already paid for.
Chances are you'll need at least one larger basement window to meet building code requirements for safe egress. For that purpose, we offer energy-efficient windows. Also, consider adding a basement bathroom or even a small kitchen.
---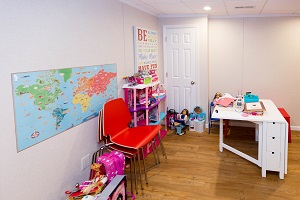 Children's Playroom
If you're struggling to find space for the kids to play without destroying the upstairs, a basement play area might be just what you need to give the rest of your house a rest.
Our strong, impact-resistant wall panels will take all the abuse kids can dish out. ProComfort Carpeting is the ideal way to create a comfortable floor that resists stains, moisture damage, and mold.
---
Photos of basements transformed with Total Basement Finishing
Click through the pictures below to see examples of some of the basements we have finished in Freehold, Edison, Jersey City and other nearby towns and cities!
Get started on your basement remodeling project today
Let the basement finishing experts at Quality 1st Basement Systems help you design your dream basement. Whether you want to transform your entire basement or just one room, we install quality solutions for finishing your walls, floor, and ceiling to transform your basement into a functional living area.
Contact us today to discuss your basement ideas and we will provide you with a free customized quote for your basement remodel!
Looking for a price? Get a no cost, no obligation free estimate.